This memorial website was created in the memory of our loved one, Sandra Oshunkentan who was born in Texas on March 16, 1971 and passed away on July 24, 2004 at the age of 33 as a result of relationship violence. We will remember her forever.

We want to thank each and everyone who has visited Sandi's site. The candles, beautiful graphics and tributes are so appreciated. Her friends and I are so touched by your kind words and beautiful graphics. Thanks to each of you again.
Special thanks to Janet Piccolo for taking care of Sandi's site for me.

Sandi's Mom, Friends & Family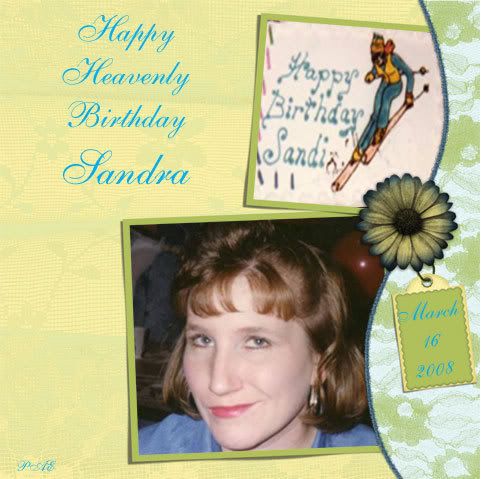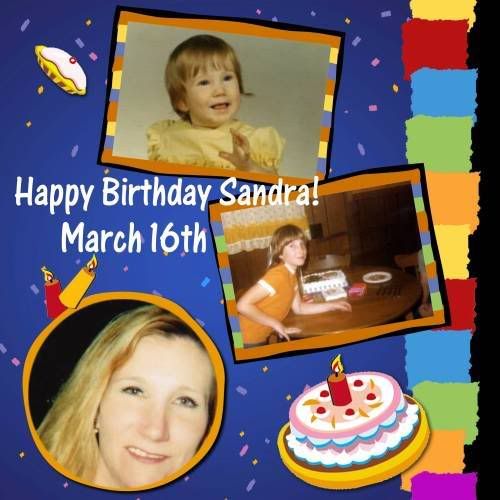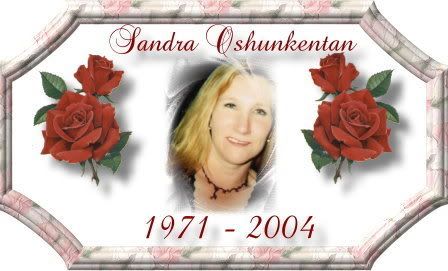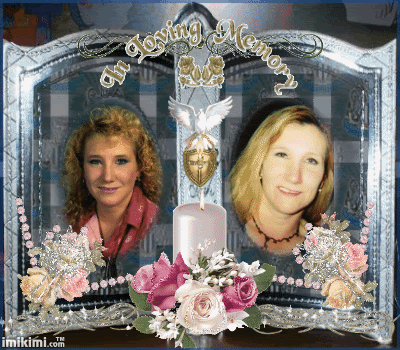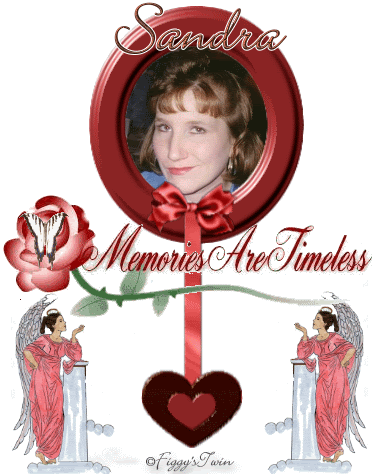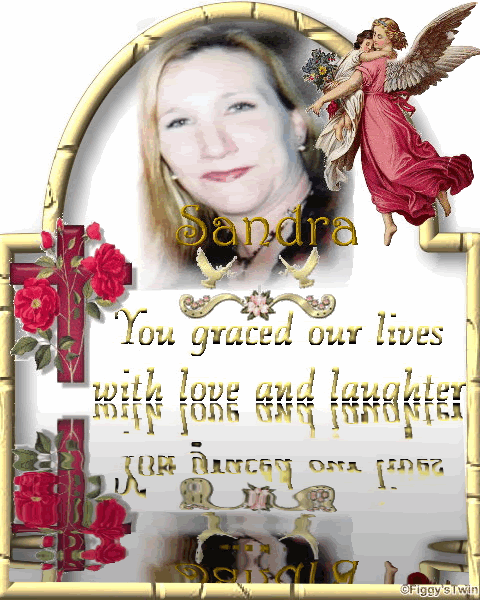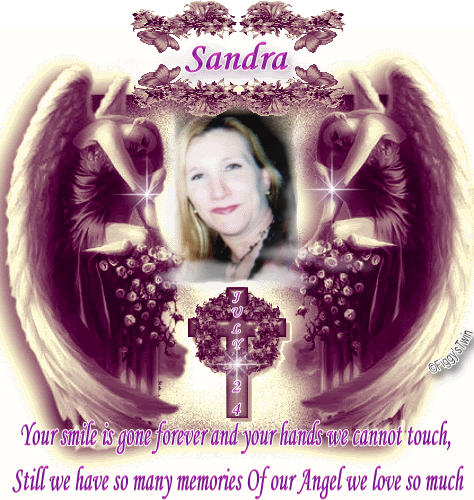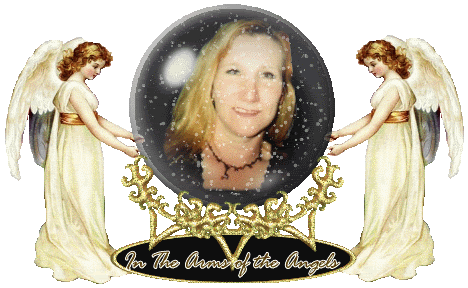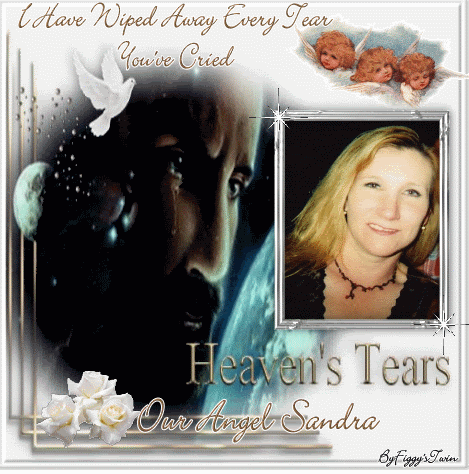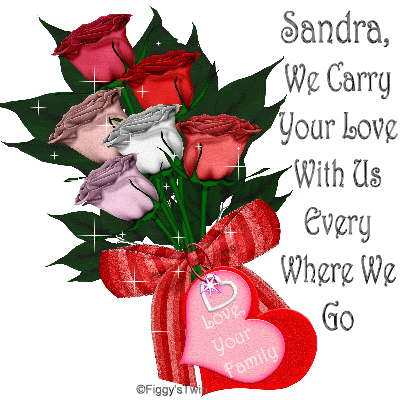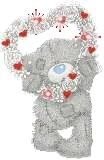 On May 12, 2007 the day before the Mother's Day, Sandra's mother Pat was reading the memorial candles on Sandra's website. She looked at one from Janet, Mom of Nicholas Piccolo who has a memorial website in her son's memory.

http://nicholas-piccolo.memory-of.com/

She was curious and decided to check out Nicholas' website. As Pat was reading about Nick, she had this overwhelming thought. That she was suppose to call his parents and speak with them. She didn't know why and she felt stupid about doing it. She thought this may be God speaking to her so she decided to go ahead and call. Pat got the phone number and saw that they live in New York which is 2 hours ahead.

That same morning, Nick's parents woke up together and Janet decided that she was going to take the dog for a walk and she also stopped by her mother's house who lives next door. She was only gone for 15 minutes and during this time, her husband fell back to sleep.

When Janet returned to the house, they received a phone call from Pat about 20 minutes later. The father was sitting on the couch in the living room when she called. At first, Pat asked for Mike who is their other son as he is listed on the website. Since he wasn't home, Janet gave the phone to her husband. Pat then asked the husband, "Do you have a brother or son who passed away? I'm calling you about your son's website." Since the father can't even look at the pictures and the memorial sites because it hurts him too much, he told Pat that she would need to speak with Janet and handed the phone back to his wife.

Pat said that she wasn't sure why she was calling. She wished Janet a Happy Mother's Day. She was calling from Texas and had this uncanny urge to find their number through the phone directory and give them a message. Janet had her on speaker phone and Nick's father who was listening started to cry.

He took the phone from Janet as he had not shared with his wife that he had dream this morning. He told Pat that he had fell asleep for a few minutes while Janet was gone. He had a dream that he had walked into the kitchen and saw Nicholas washing some dishes. He asked him how he was and Nicholas told him that he was fine. He said that he was in Aubrey, Texas all morning and that he was going to Englishtown this afternoon. The father asked him if it was Englishtown, NJ ? but he did not answer. He knew in his dream that Nicholas was dead and thought to himself that since he is a spirit it is possible that he could travel anywhere in very short time.

Pat told him that her son must have been with her all morning because she had been on his memorial website and just had to call them from out of nowhere with this message. In some sense, they believe that Pat wishing a Happy Mother's Day was a direct message from their son Nicholas. Janet thought that she may have lit a candle for Pat's daughter's website just one time, but they didn't know each other before the phone call.

The Piccolos feel that this is just another positive example that "we don't die, we live on and make other friends and family on the other side, and we don't forget the people we leave on this side. The strings are never ever broken. I truly feel that this memorial site has been a true blessing to me and has brought me together with many beautiful angel friends who have comforted and supported me with this unfortunate common grief we all share……My husband and I got goose bumps all over from that beautiful phone call from Pat, and still have them. It truly confirms to us that our angels spirits are alive and always with us, and that through God's goodness and mercy we never die. Pat told me that she and Sandra had loved to collect angels. And I thought to myself that since there's so many moms on this site that have added so many beautiful angel graphics to my son's site that I introduced Pat to them. I was happy to see that they also made angel graphics for Sandra's site. They are all such caring angels on this beautiful memorial site and do them from the bottom of their hearts."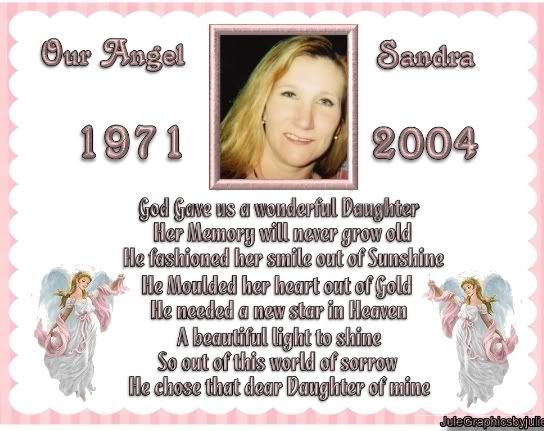 Sandra was first and foremost a dedicated and sensitive mother to her sons Jonathan and Ryan. Her sons were the world to her. She loved spending time with her family and network of friends more than anything else.

Sandra worked and socialized in a close circle of men and women, many of whom were employed by the Denton County Mental Health Mental Retardation agency. At work, she was well-liked and admired for her caring attitude for the mentally retarded people whose cases she supervised.

She started working with mentally retarded people as soon as she finished high school. She loved the work, learned quickly and was the senior case manager. All her clients and their families loved her and fond of her. She always remembered everyone's special days with streamers and balloons and cake.

After work, Sandra was loved for her sharp and wicked wit. She could light up a room and was naturally the entertainment in a group. She had a unedited sense of humor and would say what people were thinking but didn't have the nerve to say. She had a mischevious twinkle in her eye and a smirk on her face. Sandra had a face that was easy to read and there were times that she didn't have to communicate with words.

She had a vivacious, energetic and caring spirit. She was a very generous person who looked out for her friends and family. Sandra watched the food network channel and loved to try out new dishes. She loved to have her friends over on the weekends when her boys, Jonathon and Ryan were with their father.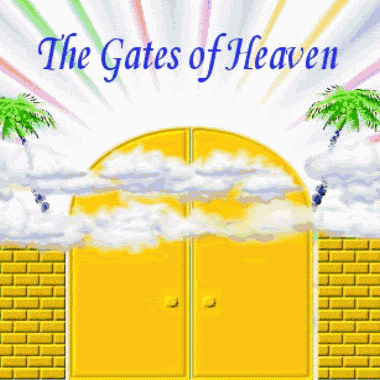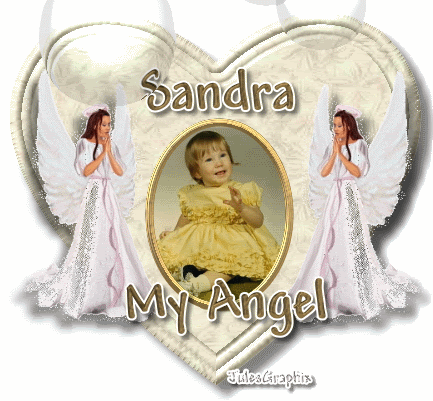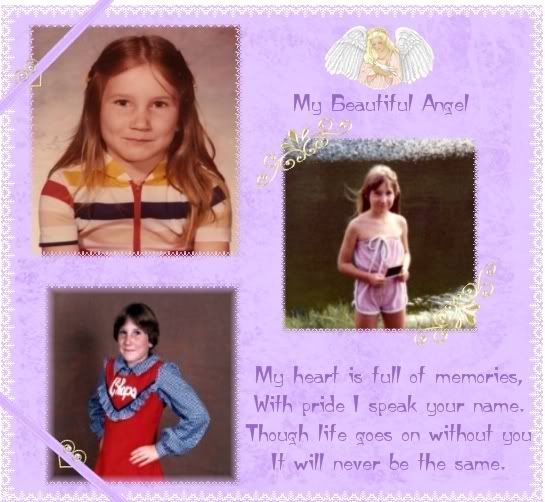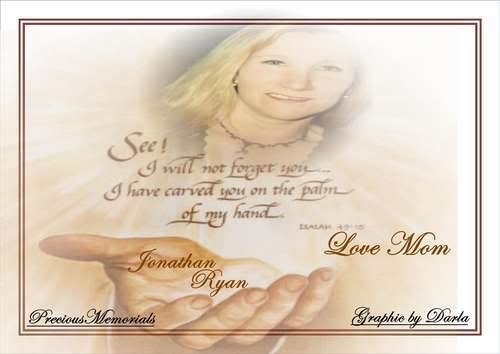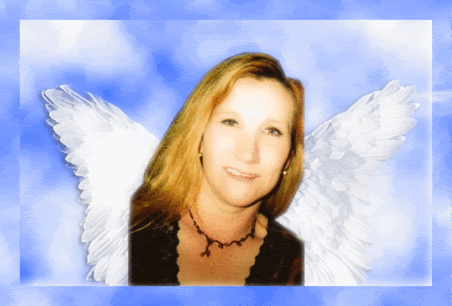 A Special Angel

There's a special angel in Heaven
That is a part of me.
It is not where I wanted her,
But where God wanted her to be.
She was here just a moment,
Like a night time shooting star.
And though she is in Heaven
She isn't very far.
She touched the hearts of many,
Like only an angel can do.
I would've held her every minute,
If the end I only knew.
So I send this special message
To Heaven up above.
Please take care of my angel,
And send her all my love.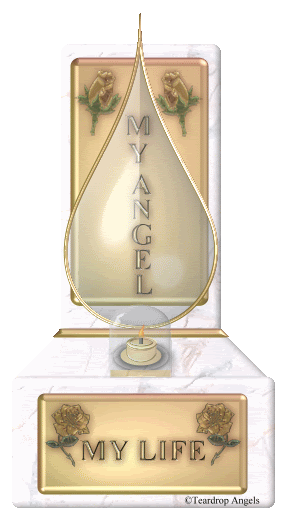 A Bridge Called Love

It takes us back to brighter years,
to happier sunlit days and to precious
moments that will be with us always.

And these fond recollections
are treasured in the heart
to bring us always close to those
from whom we had to part.

There is a bridge of memories
from earth to Heaven above.
It keeps our dear ones near us,
it's the bridge that we call love.





The Denton Record Chronicle newspaper articles about her death and the trial have been moved to "Her Timeline" section.
____________________________________________________






We would like to thank everyone for all the beautiful candles, tributes an graphics for our beloved Sandra. Please light a candle or write a tribute if you like, they mean so much to us. Sandra' friends and family come to this site several times each day for the comfort and blessings it brings.
Thank you and God's blessings and peace to all of you. Love to each of you.
Sandi's Friends and Family.



Courtney and Sandra
Friends of the Family
They provide a safe shelter for victims and their children who are in immediate danger, a 24 hr. crisis hotline, counseling:individual and group, and services for children such as play therapy/counseling. Services and programs are no cost to victims.

24 hr Crisis Hotline
(940) 382-7273 or 800-572-4031
Website: http://www.dcfof.org/

National Domestic Violence Hotline
1-800-799-SAFE (7233)
1-800-787-3224 (TTY)

http://www.acav.org/personalsafety.php/
has good information on developing a safety plan for those who want to leave an abusive relationship or situation.

______________________________________________________

Sweet Memories are the Paradise of the Mind



__________________________________________

She is gone
by Anonymous

You can shed tears that she is gone
or you can smile because she has lived.
You can close your eyes and pray that she'll come back
Or you can open your eyes and see all she's left
Your heart can be empty because you can't see her
Or you can be full of the love you shared.
You can turn your back on tomarrow and live yesterday
Or you can be happy for tomorrow because of yesterday.
You can remember her and only that she' gone
Or you can cherish her memory and let it live on.
_____________________________________________________


All is well
by Henri Holland

Death is nothing at all,
I have only slipped into the next room
I am I and you are you
Whatever we were to each other, that we are still
Call me by my old familiar name
Speak to me in the easy way which you always usede
Put no difference in your tone
Wear no forced air of solemnity or sorrow
Laugh as we always laughed at the little jokes we enjoyed together.
Play, smile, think of me, pray for me
Let my name be ever the household word that it always was
Let it be spoken without effect, without the trace of shadow on it.
Life means all that it ever meant
If it the same as it ever was, there is unbroken continuity
Why should I be out of mind because I am out of sight?
I am waiting for you for an interval somewhere very near
Just around the corner
All is well
____________________________________________________

Remember me
by David Harkins 1981

Do not shed tears when I have gone but smile instead because I have lived. Do not shut your eyes and pray to God that I'll come back but open your eyes and see all that I have left behind. I know your heart will be empty because you cannot see me but still I want you to be full of the love we shared. You can turn your back on tomorrow and live only for yesterday or you can be happy for tomorrow because of what happened between us yesterday. you can remember me and grieve that I have gone or you can cherish my memory and let it live on. You can cry and lose yourself, become distraught and turn your back on the work or you can do what I want-smile, wipe away the tears, learn to love again and go on.
______________________________________________________

Unknown source

Do not judge a biography by it's length
Nor by the number of pages in it
Judge it by the richness of it's contents
Sometimes those unfinished are among the most poignant
Do not judge a song by it's duration
Nor by the number of it's notes
Judge it by the way it touches and lifts the soul
Sometimes those unfinished are among the most beautiful
And when something has enriched your life
And when it's melody lingers on in your heart
It is unfinished?
Or is it endless?
You can cry and close your mind,be empty and turn your back
Or you can do what she's want; smile, open your eyes, love and go on
__________________________________________________________

Unknown

I'd like the memory of me to be a happy one. I'd like to leave an afterglow of smiles when life is done. I'd like to leave an echo whispering softly down the ways. Of happy times and laughing times and bright and sunny days. I'd like the tears of those who grieve, to dry before the sun. Of happy memories that I leave when life is done

(This was found off of another memorial website in which the honored person had written this at one time. Cannot remember which website.)
________________________________________________________


To Surviving Family and Friends of Sandra, click on the following link
http://www.ojp.usdoj.gov/ovc/assist/nvaa/ch16hom.htm to learn about the impact and aftermath of homicide. The 1996 National Victims Assistance Academy. Information geared toward professionals assisting survivors of homicide.

http://www.thisisawar.com/GriefMurderFriend.htm

http://www.griefworksbc.com/SurvirorsofMurder.asp

http://www.griefwords.com/index.cgi?action=page&page=articles%2Fhelping15.html&site_id=202

http://www.omh.state.ny.us/omhweb/grief/#Section6